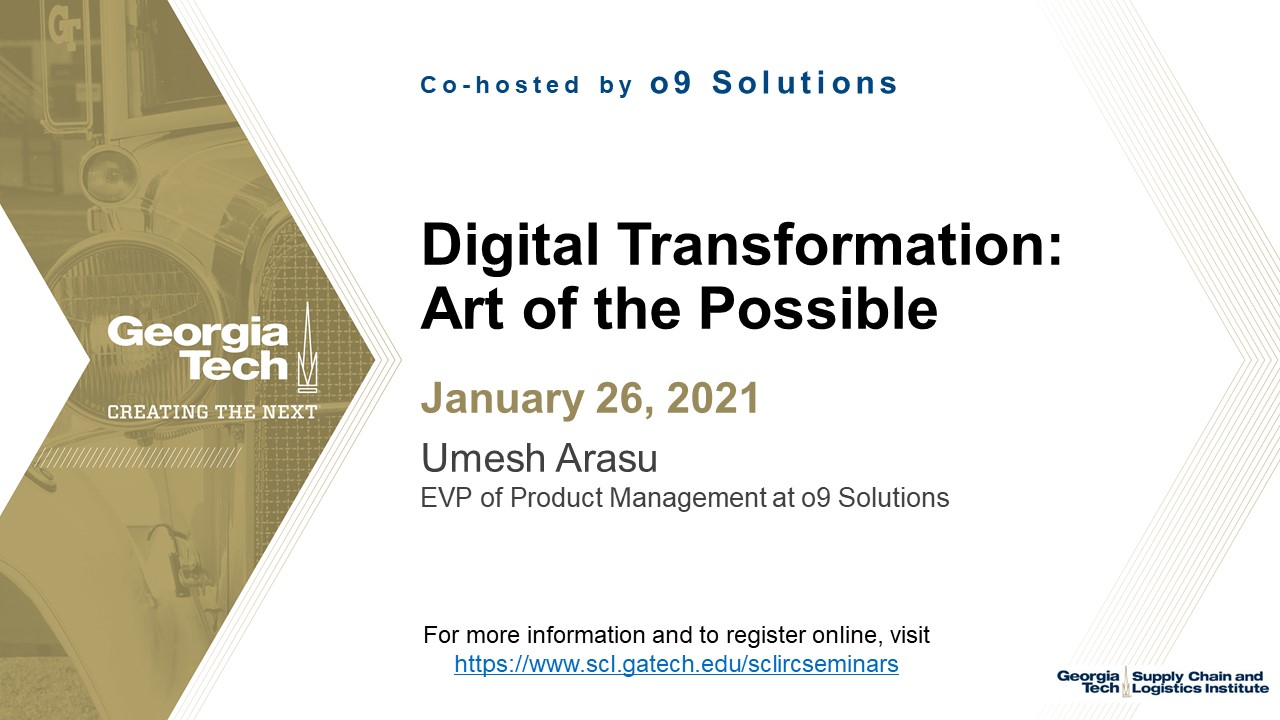 The Supply Chain and Logistics Institute hosts a series of monthly seminars open to interested faculty, students and corporate partners as well as the general public. For January, our session will be co-hosted by o9 Solutions.
If you are interested in attending, please review the below information and register online.
SESSION OVERVIEW
We will discuss the top challenges and supply chain disruptions o9 is seeing in the market right now, especially in these post-COVID times. Umesh will then share how o9 is coming in and solving these problems by walking through specific customer stories and giving a high overview into what makes the o9 platform the most innovative next-generation Integrated Business Planning solution on the market.
SESSION SPEAKER
Umesh Arasu is an EVP of Product Management & Product Marketing at o9 Solutions. He has over 20 years of industry and research experience working with large fortune companies in Retail, Consumer Goods, Distribution and Manufacturing. He has a successful track record of bringing innovative enterprise applications to market in the areas of integrated business planning and business intelligence. Prior to o9, he was involved in strategic and leadership roles for enterprise platform and applications companies such as MicroStrategy (MSTR), Teradata (TDC), and i2 Technologies (now JDA / BY). His research interests include supply chain analytics, combinatorial optimization, data visualization and network flow algorithms.
Umesh has a Ph.D in Operations Research, M.S in Industrial & Manufacturing Systems Engineering from Kansas State University and a B.S in Mechanical Engineering.
The session will be moderated by Benoit Montreuil, Coca-Cola Material Handling & Distribution Chair and Director of the Physical Internet Center.
Attendance is complimentary and this session is open to the public.