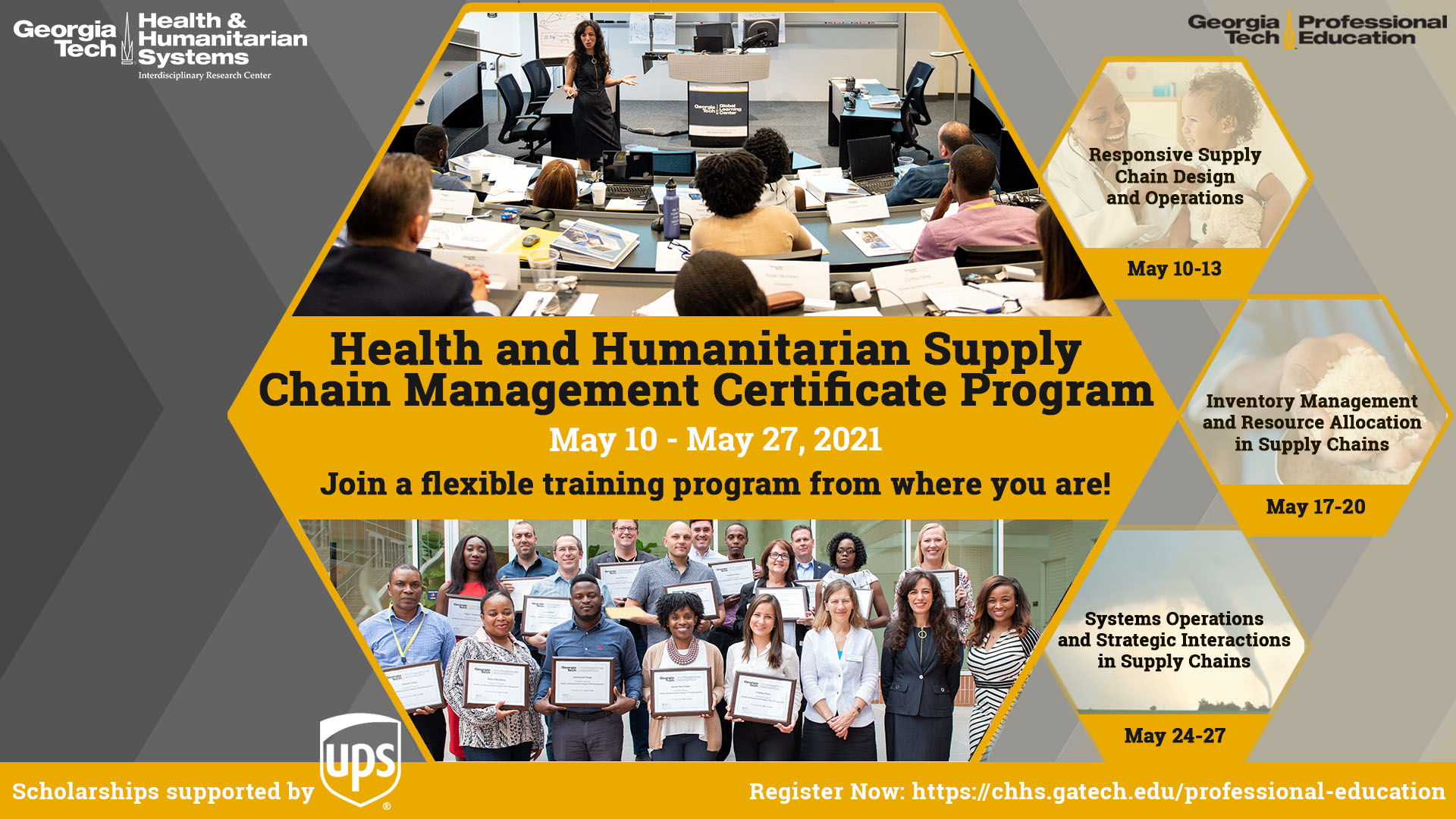 Course Description
Meeting demand in a timely and cost-effective manner is important both in public and private supply chains, and heavily depend on the design and operation of these supply chains. Demand is affected by ongoing factors such as local economy, infrastructure, and geographic location, as well as unexpected events such as natural or manmade disasters or other large-scale disruptions. Designing and operating responsive supply chains requires the consideration of uncertainty in timing, scope, scale, and understanding of various topics such as forecasting, distribution network design, and inventory management. This course will examine methods and models for making supply chain design and operational decisions and explore the significant value that is obtained through informed decision-making in advance of an unpredictable event or long-term strategy for meeting the need of customers and beneficiaries.
What Is Covered
Network modeling approaches
Forecasting techniques
Strategies for making decisions under uncertainty
Other data-driven analytical approaches
Who Should Attend
This course is designed for representatives from governmental or non-governmental organizations, private corporations, military, and foundations, including but not limited to senior executives overseeing administrative and operational functions of an organization, logistics and supply chain managers, program managers, directors of field operations, directors of emergency/disaster preparedness and response, and public health professionals.
Remote Learning courses taken individually (not the full 3 course certificate program) will be $1800 each rather than the original fee of $2400, All three Courses taken as a part of the Certificate Program are offered at a reduced cost of $1400 each.
In need of financial support? Scholarships may be available If you are working for an NGO or outside of the United States. Contact Program manager, Joscelyn j.cooper@isye.gatech.edu for further details.
Please Note: All three (3) courses that comprise the Health and Humanitarian Supply Chain Management Certificate have been transitioned to a Remote Learning format and will be taught by LIVE video instruction similar to the experience you would receive in person.
• Responsive Supply Chain Design and Operations May 10-13
• Inventory Management and Resource Allocation in Supply Chains May 17-20
• Systems Operations and Strategic Interactions in Supply Chains May 24-27
The remote learning experience is maximized through our blended delivery format, consisting of online pre-course modules, live interactive video instruction, games, and breakout groups. The program is spread over three weeks, running only for a few hours each day (9:30am to 1:00pm, US Eastern time Monday through Thursday) to provide flexibility with work schedules.