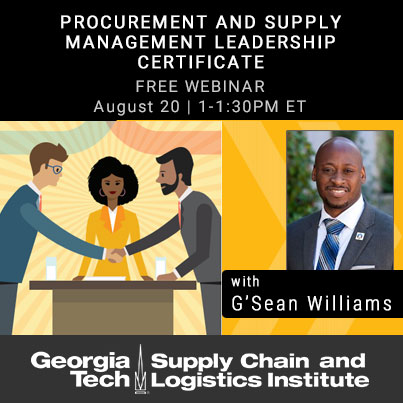 OVERVIEW
A free, half-hour informational webinar relating to our PSM Leadership program designed to accelerate the leadership and executive presence of professionals responsible for driving cost management and category sourcing excellence. The program is driven by key competency areas (contract development, negotiation and influence, financial analysis, etc..) and embeds team leadership and stakeholder management into every competency, case study, and class challenge.
Register online at https://bit.ly/psmcert2021 to attend.
WHO SHOULD ATTEND
Procurement and supply management senior managers, directors and VPs with direct reports looking to deepen application skills and sharpen procurement leadership tools. ABOUT THE PRESENTER G'Sean Williams is a Lead Instructor for the Georgia Tech Supply Chain and Logistics Institute's Procurement & Supply Management (PSM) Leadership Certificate courses where he leverages his experience in negotiating deals, managing contracts and leading global procurement teams. He is also Executive Director of SMS-Advisors' Supply Chain and Supplier Performance group. Prior to becoming a Partner at SMS-Advisors, G. Sean held various Procurement & Supply Management Manager and Director level positions in Corporate America for companies including Intel, WestRock, and Bristol Myers Squibb. He is currently Senior Director / Head of Indirect Procurement at Floor & Decor.
PSM COURSE SERIES
Offered throughout September 2021 virtually/online. Learn more at  https://www.scl.gatech.edu/PSM.